Fire Danger Rating
The fire danger ratings for BC can be found here: www2.gov.bc.ca/gov/content/safety/wildfire-status/wildfire-situation/fire-danger
Be Fire Smart
Download the Homeowner's firesmart manual  The recommendations in this manual will help reduce the risk of wildfire near your home and neighbourhood and provide a better opportunity for firefighters to defend your home.
Wildfire Facts & Safety
Ventilation Index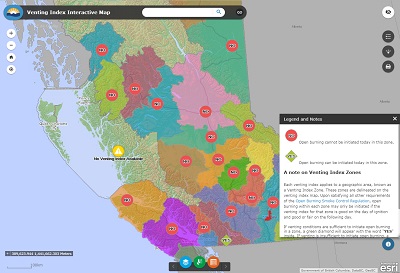 The daily Smoke Control Forecast contains predictions of the Ventilation Index, a measure of atmospheric turbulence and low level winds, for 25 B.C. locations.
The burning of woody debris outdoors is only permitted when the forecast Ventilation Index is sufficient to disperse smoke.
Access the Venting Index Forecast Interactive Map
Forest Fires
Learn about forest fires at Wildfire Management BC
Emergency Information
Powell River Regional District has a page on Emergency Information, including being prepared for emergencies, as well as what to do during an emergency situation.
Emergency Preparedness
Lots of good articles on the BC Provincial Govt page Prepared BC, British Columbia's one-stop shop for disaster readiness information.